your brand awareness partner
Custom Printed Wholesale Glassware and Growlers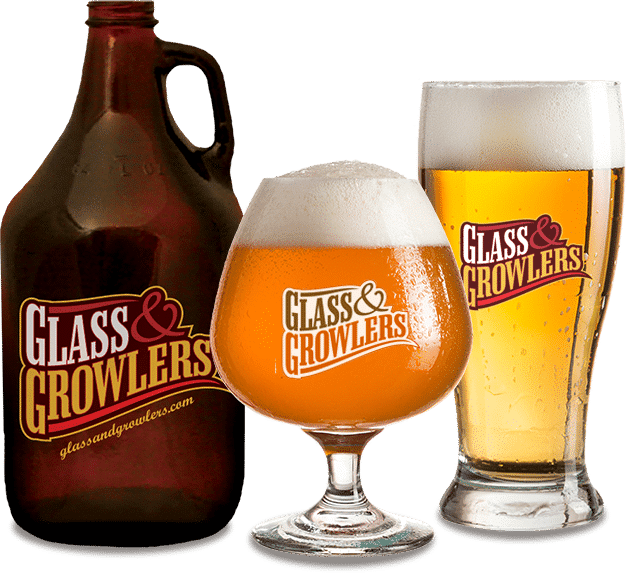 Custom Decorated Glasses & Growlers
Glass and Growlers is your factory-direct source for wholesale, custom-printed, reusable containers. From glass and stainless steel growlers to custom barware and mugs, we take pride in creating beautiful and vibrant branded merchandise that will stand the test of time and truly set your business apart from the competition.
Create custom-printed growlers with your choice of glass, stainless steel, or plastic. Our decades of printing experience, industry knowledge, and skilled in-house design team ensures every branded growler we produce is of the utmost quality and matches our superior standards.
Browse our custom printed accessories, including custom coasters, caps, growler tags, bottle openers, and apparel. Our glassware accessories are completely customizable – whether you need custom growler caps for your brewery or updated swag for your restaurant.
What We Offer
At Glass & Growlers, we offer customized, branded growlers and barware in a variety of styles and sizes for craft brewers, bars, restaurants, pubs, and beer enthusiasts all over the United States.
We understand how essential it is for a brewery or restaurant to make a bold statement and a great first impression with their branding – and that's why all of our custom printed growlers, glassware, and accessories are handcrafted with superior quality in mind.
Competitive Shipping
Because we are centrally located in Las Vegas, Nevada, we are pleased to offer highly competitive, efficient freight shipping for customers on the west and east coast.

State-of-the-Art Technology
To dramatically enhance your products with high-speed, we screen-print directly to containers and offer customized vacuum metalizing and water slide decals.

Personalized Service
With unparalleled customer satisfaction, we'll work with you to create customized glassware and growlers that will showcase your brand and make your message stand out.